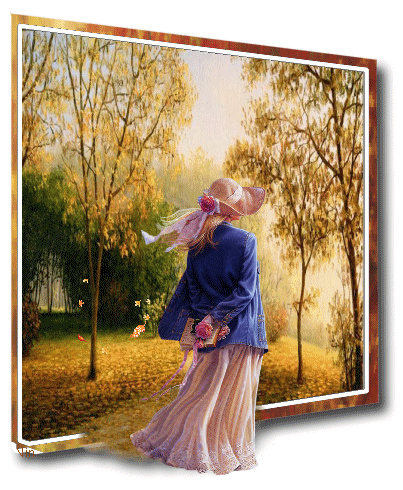 I would really like to create a space for you where you can get away from life's busy hustling and stress, and just put Self Care, Love, and a Joy for Living back into your life.
​
We are on this Journey together. I will be your companion, your partner. I want you to know I have not "graduated" this "Game" either. You can rest easy in the fact that I won't expect from you what I haven't achieved either - this "human"-thing.
​
I would like you to stop and breathe . . . take time to trace back some of the steps on your Journey, and maybe notice and highlight the beauty you experienced along the way, the people who journey with you and the experiences that have shaped you, so you can celebrate life.
I want you to sing a new song in your heart and Soul.
​
Working through all the material and lessons, we will gently Re-new and Restore and immerse in our Being-ness.
Les Voyages De La Vie ~ The Journeys of Life and Les Voyages De L' Âme~ Journeys of the Soul™️ are about Soul Progression, Soul Expansion & learning the Tools to Reality Shifting.
​
It is about Expanding your Awareness, Reconnecting to Your Intuition; to your Body and Discovering a Personal connection to Your Soul.
At the core of the Program are many guided meditations. Transforming all aspects of your life is a Commitment you make to Yourself and Your Soul Journey. It is a Commitment that requires Honesty, Integrity, Alignment, Courage & Trust.
Our Intentions for this Program is that you will Grow and Progress, be part of the growing wave that shifts humanity into a New Reality Field, where we can Bloom and Expand as the beautiful race that we are. Together we can achieve wonderful things and feel excited about what is to come. The Course is designed to instruct on the highest levels of Emotional, Mental, Spiritual, and Physical expansion.
​
The hope is that you're taking this course because you want to Grow, Expand & Progress as a Soul! That means that you will have to be committed and do each Lesson. The on-demand format allows you to take the course at your own pace.
​
There are no official Course Requirements. But some of the Programs within the Course does. For Example the Awakening Your LightBody Program.
​
This Program offers an Open Invitation from my Soul-Heart to Yours, to gift yourself the Time, Space & Opportunity to explore the Possibilities Unfolding in Soul Progression, Expanding our Consciousness and Soul Evolution work.
All YOU need is a willingness to accept that something within you is calling . . . . Life will align for you as you choose to commit to the process. You might not see it at first, but it will. It is simply waiting for you to choose you and take action.
​
I invite you to join us in a Magical Journey that will unveil the Life we Love Inhabiting.
​
☞ Due to the Progression of the Course, the Lesson & Lectures must be completed in Sequential Order.
​
​
🔶

Reading Material
There are no books that you have to buy for this course. All the information you need to know is summarized within each lecture/ lesson. That said if you want to dive deeper into the material, buy the books I refer to and mention. References are listed in the Lesson Notes called " Bibliography, References & Notes."
​
🔶

Assessments
Most Assignments are self-reflective and aimed at self-introspection. Some are graded by the Program Co-Ordinator. You cannot "fail" any Quizzes or Assignments, but you ARE required to complete them.
​
🔶

Deadlines
There are NO assignment deadlines, so you can work at your own pace.
​
​
Joining this Journey requires prioritizing Daily Connection Time and dedication to your Self. Honouring Your Soul Growth. It is ever-evolving and demands commitment & a willingness to do so.
​
​
🔶 ALL ABOUT MENTORING
​
The Mentoring Program will lead you on a fantastic path of self-discovery, creating the time and space to open & expand your Consciousness. Your Consciousness and your ability to work with Energy provides the basis for Restoring your Soul Genetics & Learning to Be Luminous. This is the basis for any experience you are seeking.
You - As a Vast Consciousness - has the potential to create a life that has great richness & meaning of your own design, progressing and evolving into remembering and knowing how to work with all energy and consciousness, clarity of mind, flowing emotions and a body restored to its natural health.
You will experience many opportunities in the Program to meet and come into resonance with your own Expanded State of Consciousness, assisting you in bringing new aspects of yourself into greater expression in your life.
​
Soul Journeys will guide you through many subjects & aspects of Transformation.
The Program is developed with an intentional progression throughout, beginning at Lesson 1, and moving sequentially through the program.
​
There will be lots of meditations, articles to read and material to study. I will check in with you on a monthly basis, and we will meet-up via Skype / Facebook Messanger once a month. Take regular time to check in with yourself, nurture your hardworking heart. You are in the right place to hear the music inside you again, and I am so grateful to share this journey with you.
​
​
🔶 MENTORING APPLICATION FORM
​
Institute De La Métaphysique™️ Application Form
​
​
🔶 SUBSCRIBING TO THE MENTORING PROGRAM
​
​
​
​
​
So as my fellow traveller, feel free to exhale. Un-rush Yourself.
​
Be in touch soon.